Weaving Partnerships to Improve the Quality of Life of the Eastern Band of Cherokee Indians and Strengthen Western NC
---
Meet our featured Grantees
Junaluska Memorial Site Museum
"Fort Montgomery research"
An archaeological report and the digitization of historic materials
North Carolina Arboretum
"Cherokee ramp harvesting"
Testing the sustainability of traditional Cherokee ramp harvesting techniques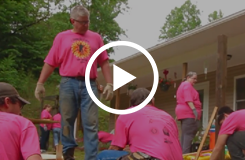 Here's a one minute video about Cherokee Day of Caring 2014, produced by Cherokee's very own Raven's Eye Media, with voiceover narration provided by Cherokee storyteller Lloyd Arneach.
Browse the Archives >
Events cannot currently be displayed, sorry! Please check back later.
View All >