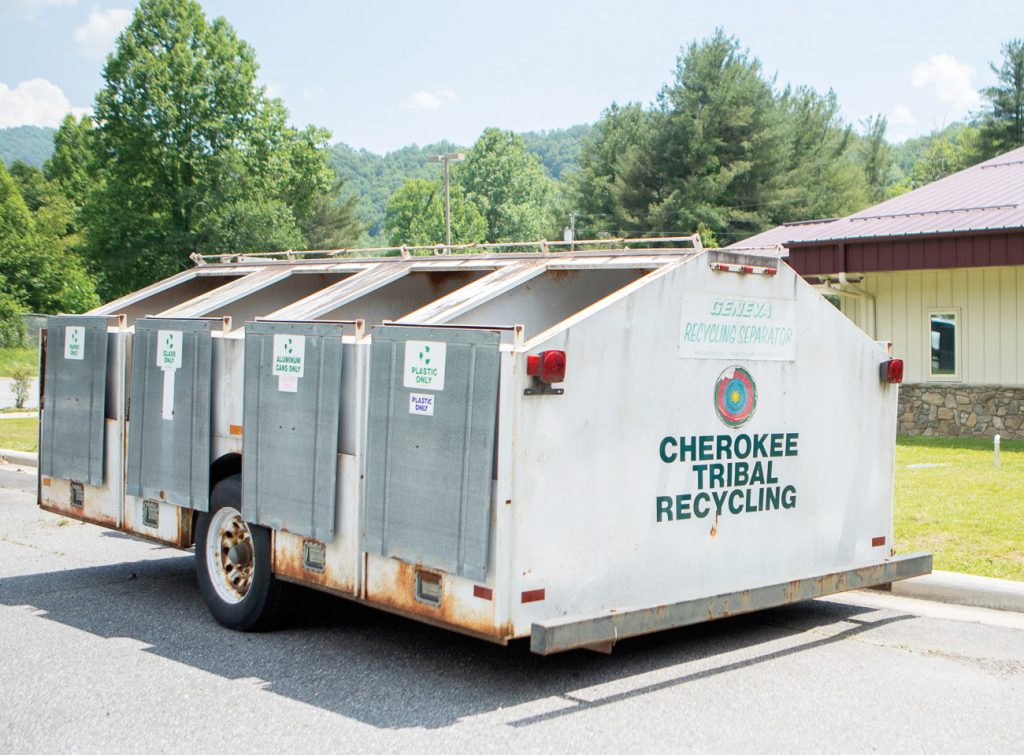 The Cherokee people have always honored their natural environment, and the Foundation works alongside the Tribe to continue this practice. One long-standing project the Foundation funded is a recycling program.
The first recycling efforts began more than two decades ago in cooperation with USETA initiated recycling in Qualla Boundary. These efforts were encouraging but didn't get the results desired.
Fast forward to 2006—Chief Michell Hicks issued an environmental resource proclamation that included recycling. In 2008, the Generations Qualla Task Force created their action plan in support of the Chief's proclamation, and the Foundation awarded a grant of some $600,000 to help.
A Recycling Task Force was established to work in connection with several other committees. These groups worked closely together to identify the containers and trailers needed. They also coordinated for materials collection.

The Cherokee Youth Council provided onsite training to all EBCI Departments. They also placed nearly 1,000 blue recycling containers. Cherokee youth also learned about the importance of recycling and improving public speaking skills.
More than a decade later the Foundation's investment continues to pay off. The amount of recycling has definitely increased.
Grant funding helped purchase hallway containers for Tribal offices, 12 trailers and holding bins for central recycling collection, and park-style bins for downtown and Oconaluftee Island Park. The trailers are parked at office complexes.
"We have many Tribal offices and having bins in all our offices has made a huge difference," said Tee Trejo, Solid Waste Manager, EBCI Department of Solid Waste. "Our goal is to be 100 percent recyclable, keeping these materials out of the waste stream to protect our environment and resources, and to cut our costs," said Tee.