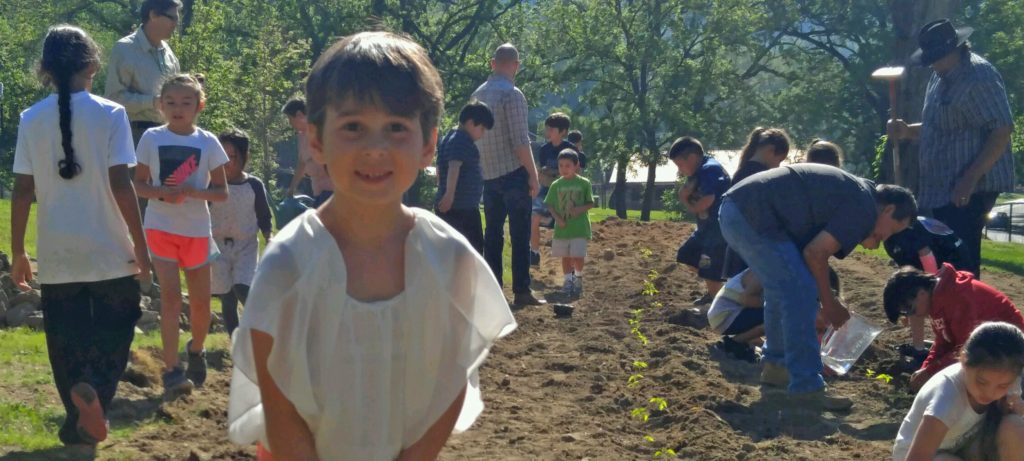 The Jessie Owle Dugan greenhouse and nursery is a thriving facility owned by the EBCI. The greenhouse was created to supply locally sourced plants for tribal programs and individuals. Since its inception three years ago, many Cherokee adults and children have learned about native plants and received fruit trees and berry bushes for their homes.
Last month in honor of Earth Day, the facility gave away blueberry bushes and sold fruit trees.
In the fall of 2016, the Foundation awarded a very specific grant to the EBCI Natural Resources Program. The grant request included funding to purchase cold frames, raised beds, demonstration beehives, and bat houses!
"All these materials were put to good use last year and they keep on giving," explained David Anderson, Tribal Horticulturist. "And we have a lot of fun teaching both children and adults about how to use all these things."
About 30 raised beds were purchased and planted with peppers, tomatoes, watermelons, and traditional foods. These were used to show adults and children what could be done with a small area.
"Incorporating the raised beds helped us show elders and disabled people that they can still garden, and they don't have to bend over that much," said David.
"We also held Cherokee language lessons in the gardens for kids from Kituwah Academy from kindergarten up," he said. "Several Cherokee kindergarteners harvested huge tomatoes during one educational session—seeing the kids with huge smiles on their faces was a delight."
This year the raised beds are being used to grow traditional foods such as ramps, sochan, creasy greens, and tobacco. David is working with Joe-Ann McCoy of the NC Arboretum Germplasm Repository to help determine what plants are most needed to build up the seed bank that's located at the repository.
Eight mini cold frames purchased with grant funds continue to be used for traditional tobacco beds. The seeds from these plants are stored and distributed to the Tribe; they are also put in the seed bank.
The cold frames and raised beds were also used for a special project through an Adult education PERO program. Part of the program was a Mothertown healing project created for people who are recovering addicts trying to build new skill sets and reintroduce themselves into the community.
"Several of the people in this program came down and helped us work last summer; they were a blessing and helped us stay on top on things," said David. "We taught them to prune and stake plants and other growing techniques, and they worked a lot. We also donated plants for their garden."
Working with the Tribe's Fish and Wildlife Program, some 50 bat boxes were distributed to Tribal members on Earth Day last year. Each box included the address of the person receiving it so Fish and Wildlife staff members can document and use the information for research purposes.
Staff members at the greenhouse used the eight beehives purchased with these grant funds to teach people how something simple like bee keeping can be fun and environmentally responsible. The hives aid in pollination and also held educate about value-added products.
"We suited up some children in beehive suits and took them to see the bees last year. The kids love it!" said David. "We are also partnering with the Smoky Mountain Beekeepers Association, and soon we'll have some Cherokee honey for sale in Harrah's. They will also use the product in their banquet halls."