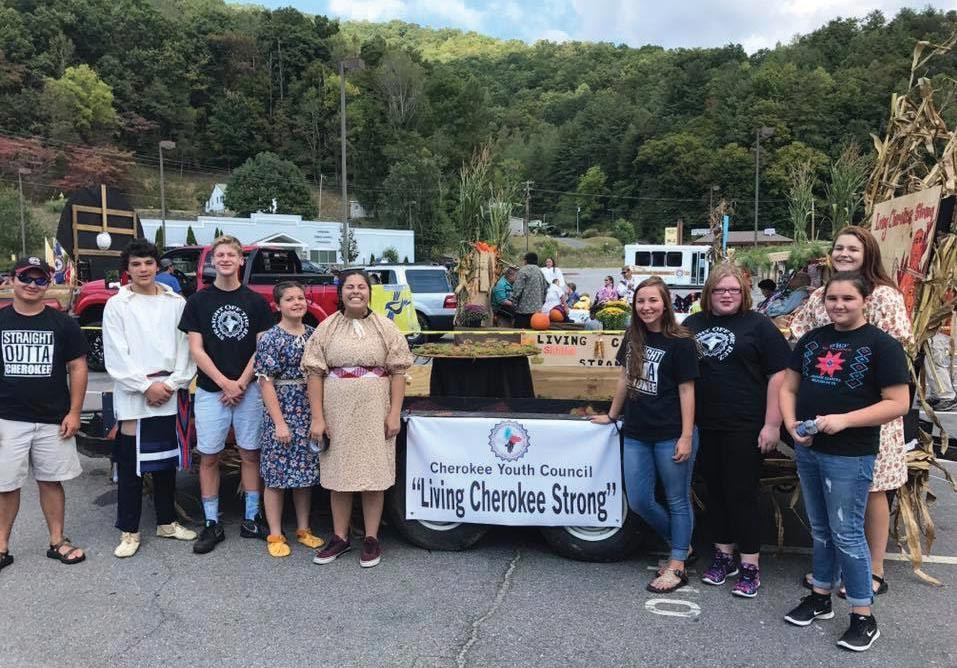 In the Cherokee culture, all voices—from youth to elders—are heard and respected. Established in 2007 through a grant from the Cherokee Preservation Foundation, the Cherokee Youth Council (CYC) honors the valued voice of youth, as was the tradition in the days of the Cherokee Grand Council. CYC nurtures youth empowerment by providing opportunities for middle school and high-school students to improve leadership skills through a Cherokee culture-based program.
Through the program, young people are seen and heard, voicing their perspectives on EBCI community issues. Issues are addressed and projects selected by the council; they then research, develop, and implement strategies addressing the issues. They also report on project outcomes.
Ethan Clapsaddle is the newly-hired Cherokee Youth Council Leadership Specialist. "I have seen how young people that came through this program have changed their lives, developing leadership skills that they continue to use. I can't wait to get to know our current council members, work closely with them, and learn from them."
Sky Sampson was responsible for the CYC for more than five years, leaving that position at the end of 2016 to become Director of the Cherokee Center at Western Carolina University.
"The Youth Council is based on our Grand Council. There are no officers, everyone is equal and can discuss issues," explained Sky. "To make something happen, we have to have consensus, and that's not easy. It takes longer, but it really helps our teenagers figure out what matters to them and what they can let go."
CYC members volunteer countless hours to the community. Current CYC members also participate in the recruitment process, screening candidates, listening to oral interviews by candidates, and voting on new members—remember, there must be 100% agreement! Some 15-20 students are currently on the Council; the time commitment includes two monthly meetings plus volunteering one to two times per week.
"We normally recruit for CYC in April and November and go to each middle and high school to explain the program," said Sky. "We are not necessarily looking for people who are already leaders, we want those who have potential and want to learn."
CYC has tackled many issues and projects through the years. Some projects include youth impact events on teen pregnancy, suicide prevention, and drug addiction. These events are not funded by the Foundation—the council members raise funds to make them happen. At one assembly called "No one wants to be a drug addict", members asked youth to speak and brought in outside experts. At another conference on bullying, more than 700 youth attended the event at the Joyce Dugan cultural center auditorium in the Cherokee High School.
Nate Crowe, 16, is a CYC member who attends Smoky Mountain High School. His experience with the Council has helped him gain confidence and realize the importance of giving back to the community. "Speaking in public really makes me nervous but I've done it, and it's helped me break out of my shell. I also enjoy volunteering at many different events and serving as a voice for the community."
Recently, the CYC represented the Eastern Band of Cherokee Indians at the United National Indian Tribal Youth (UNITY) conference in Phoenix, AZ. More than 2,000 native youth attended the conference. Simon Montelongo of the Cherokee Youth Council was elected to represent the Southeast Area Caucus, making him the first EBCI member to serve on UNITY's national board.
"Simon is a tremendous leader in our community and we are so proud of him for taking on such an amazing national position," said Sky. "Our youth council strives to empower youth within our community and to give them a voice even beyond the Qualla Boundary."