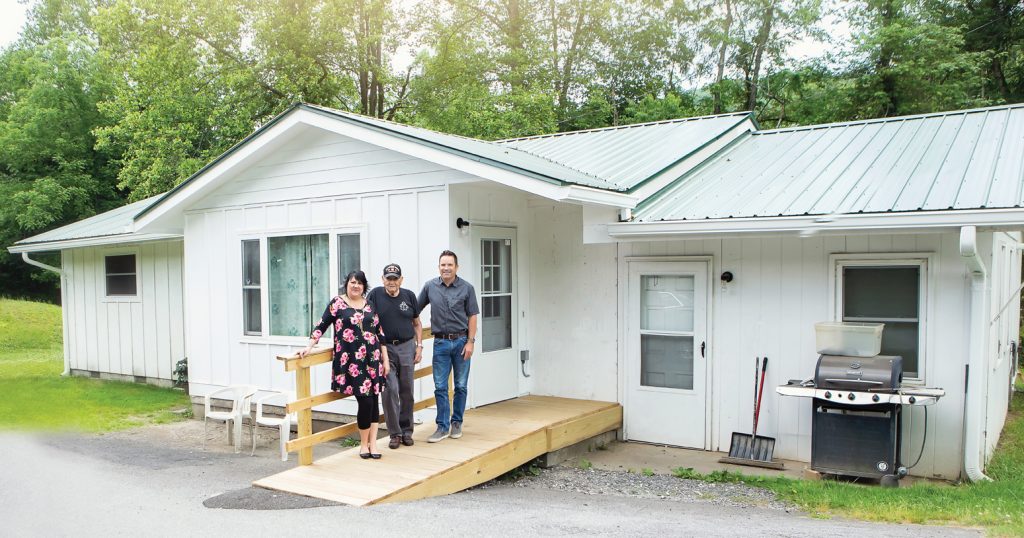 The power of collaboration was in strong evidence last fall during the first Veteran's Day of Caring. The Foundation, the Cherokee Boys Club, and the Housing Improvement Program (HIP) helped a highly decorated WWII war hero, Reuben Taylor, repair and renovate the house he's called home since 1953.
Reuben, age 93, served honorably in WWII, fighting in Holland during the D-Day operation and in the Battle of the Bulge. He's been awarded the Bronze Star, the Purple Heart, the Presidential Unit Citation, and eight other decorations for his devotion to duty.

The makeover of Reuben's home began when Deb Owle, Grants Manager at the  Foundation, asked the Cherokee Boys Club for volunteer help and contracting services for a 6' addition Reuben had requested. The Foundation's funding level didn't cover all that needed to be done, so the Boys Club took Reuben's request to the Housing Improvement Program committee.
"The HIP committee is very sensitive to the needs of the community. Many times there's a lot of debate about the use of HIP funding, but Mr. Taylor's project was a no brainer. We all knew Reuben deserved this help for his home," said Sean Lawless, Cherokee Boys Club.
In October, a team of volunteers began the process with priming, painting, and trim work repair. Cherokee Boys Club volunteers worked closely with Foundation volunteers. After those improvements, funding from HIP kicked in.
The living room addition was completed and the heating and AC system was upgraded. A new roof was added and a disability entrance was created. New gutters were installed and exterior painting helped it all look fresh.
"In the spirit of ga-du-gi, we were proud to be a part of this project for Reuben, a decorated war hero and one of the Tribe's treasured elders. Community service is part of our culture, it's a way of life," said Sean.
"It's really important to have programs like this to help people. It keeps them from
going into debt, and I'm very thankful. It's made my life better," said Reuben.