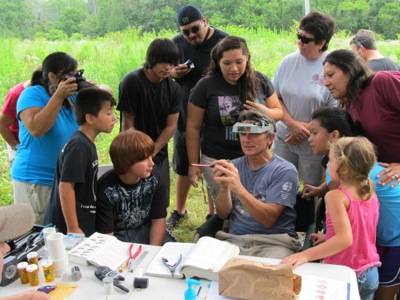 Human history is written all around the Great Smoky Mountains and the western North Carolina landscape. And when history is tied to the land and the water, a natural partnership can develop between conservation and preservation.
"Our mission at the Little Tennessee Land Trust (LTLT) is to conserve the waters, forests, farms and heritage of the Upper Little Tennessee and Hiwassee River Valleys," said Sharon Taylor, executive director of the LTLT.
"And we honor the partnership we have with the Cherokee Preservation Foundation (CPF) to help further our initiatives to conserve and preserve the natural history of our region and the Cherokee homeland."
Since 1997, the LTLT has successfully established partnerships with many agencies, conservation organizations and funders to create vigorous land protection and bottomland restoration programs.
With the efforts brought forth through funding by the CPF, regional relationships are strengthened between the Eastern Band of the Cherokee Indians (EBCI) and residents throughout western North Carolina.
"This region has a rich heritage and much of that history would be lost if not for the efforts of the LTLT," said Taylor. "We are thankful for the support of the CPF to help educate our communities and continue the work to conserve, restore and connect."
One of the grants awarded to the LTLT by the CPF is to continue the restoration of river cane and other resources (butternut, yellowroot, mulberry, hazelnuts) on the historic Welch Farm and to fund management of artisan resources on LTLT's Tennessee Bottomland Preserve. River cane was once one of the most abundant plants in the southeast and formed impenetrable forests growing along the region's riverbanks. It is one of the most traditional material used by the Cherokee with evidence of its use going back 500 years.
"Over the past century, the loss of the river cane has meant a loss to the economic growth for the Cherokee people," said Taylor. "It is also an important streamside plant. River cane has a strong root system that anchors the soil and prevents erosion."
Another CPF grant was also awarded to LTLT to enhance the bird monitoring, research, and education programs tied to the national MAPS (Monitoring Productivity and Survivorship) program. The program engages Cherokee students and educational materials were produced to present information on native birds in Cherokee and English.
"The work we are doing thanks to the funding by the CPF is making a difference," said Taylor. "Their support is helping to protect our natural habitat, conserve our region's most ecologically important places, and help support our local communities."
For more information about the Land Trust of the Little Tennessee, visit www.ltlt.org.