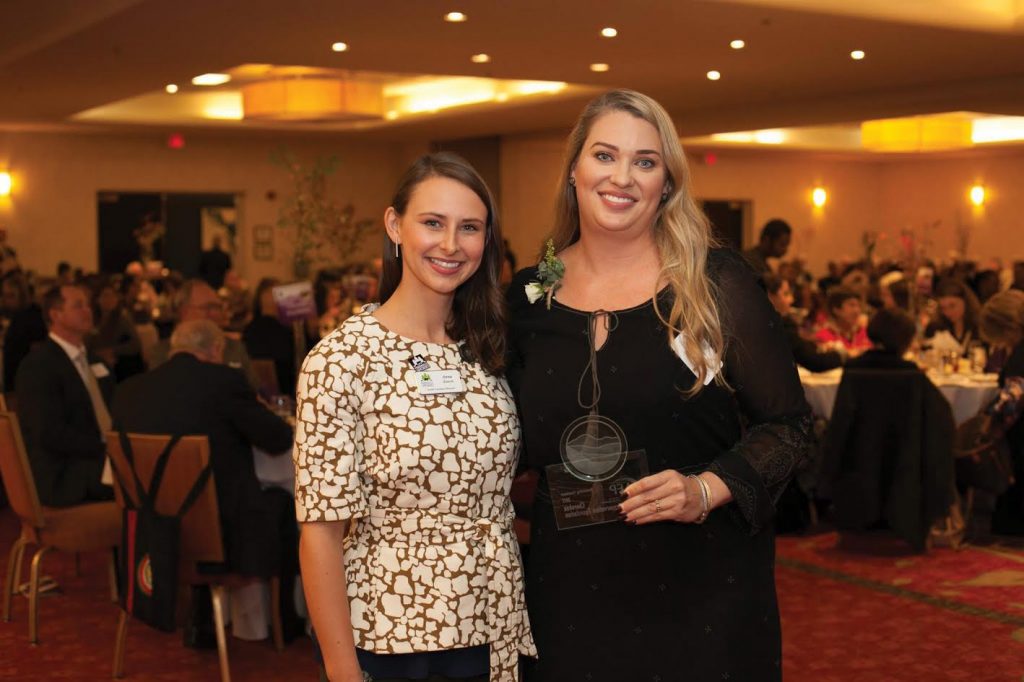 The Foundation received the Outstanding Foundation Award from AFP-WNC late last year for National Philanthropy Day. This award honors a foundation that demonstrates outstanding commitment through financial support and through motivation of others to take philanthropic leadership. Friends of the Smokies and WNC Nonprofit Pathways both nominated the Foundation for the award.
"Cherokee Preservation Foundation has proven their commitment to the community by working with others in our region to build relationships between the National Park Service, nonprofits, businesses and the Eastern Band of Cherokee Indians in western North Carolina including the Qualla Boundary," explained Anna Zanetti, NC Director, Friends of the Smokies. "A great example of their commitment and service to the community is the funding and establishment of a full time education coordinator position for a partnership between Great Smoky Mountains National Park and Cherokee Central Schools."
Anna also praised the Foundation's support and collaboration with Great Smoky Mountains National Park rangers, teachers, community members, and Tribal resources. Developed in conjunction with Cherokee Central Schools, there is now culturally relevant curriculum specific to the Park. The curriculum is available to other schools served by the National Park education division, reaching up to 18,000 students throughout the school year.
WNC Nonprofit Pathways Senior Consultant Cindy McMahon also nominated the Foundation for this award. She noted the Foundation's long-standing commitment to collaborating with others to strengthen the nonprofit sector in the Western North Carolina region, particularly the furthest west counties and the Qualla Boundary.
"The leaders and program staff at the Cherokee Preservation Foundation continue to walk the walk of capacity building with organizations that serve the Qualla Boundary. CPF staff members regularly talk with groups in the community about the value of strengthening their organizational base, and refer them to Nonprofit Pathways so they can take advantage of the training, coaching, and consulting resources that we offer," said Cindy.

"Most foundations emphasize the importance of collaboration for the nonprofits they fund. The Cherokee Preservation Foundation actively models collaboration through their long-term participation in WNC Nonprofit Pathways," she said.
We are honored to receive this award for National Philanthropy Day, and are committed to continuing to preserve native culture, protect and enhance the natural environment, and create diverse economic opportunities in order to improve the quality of life for the EBCI and those in western North Carolina.