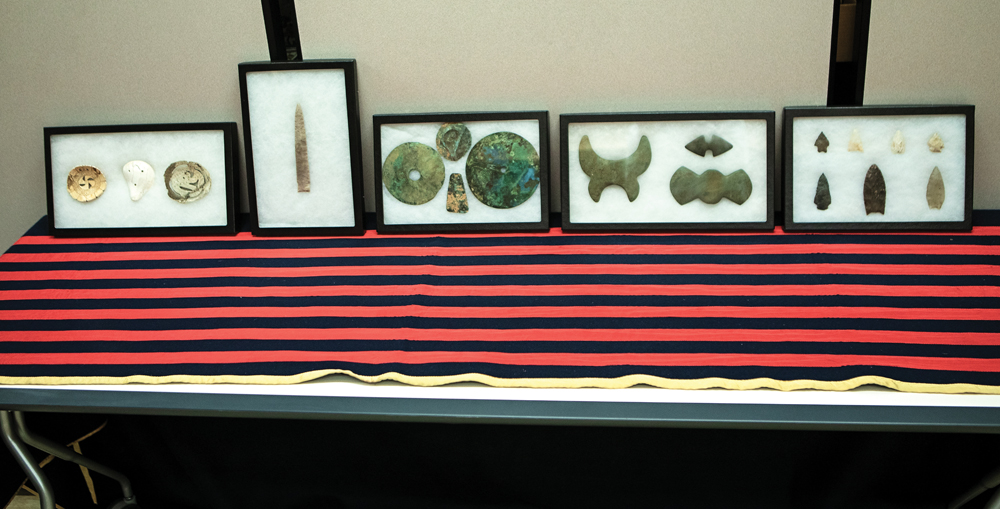 The number and quality of Cherokee artifacts in the Museum of the Cherokee Indian (MOCI) is mind boggling. Unfortunately, many of those items could not be displayed properly until recently. A grant from the Foundation helped MOCI purchase a rolling storage system, doubling their storage space. Another more recent grant continues addressing storage needs, helping the museum display more artifacts, including some from the Thomas Legion, dating back to 1861-65.
The Thomas Legion was formed in the Civil War by William H. Thomas, a Caucasian who later became an adopted tribal member. Thomas knew if Cherokee people were put into units to fight for the Confederacy they would be treated poorly, so he formed a unit that included Cherokee people and local area mountain people.
The Confederate flag they used in this unit is one of the items that's been conserved and is on display in the main exhibit of the museum. Another item in process of conservation now is an oil portrait of Thomas done somewhere between 1850-52. The Foundation grants helped make both these conservations possible.
"The main exhibit of our Museum is only a small portion of what our archives and collections hold. The ability to set up and share in a way that also protects our items is the main purpose behind our obtaining riker boxes," said Dawn Arneach, Interim Director, MOCI. "The Foundation's funding makes it possible to share our artifacts with people who may not otherwise be able to make a trip to Cherokee."
Dawn notes that the boxes are portable and can be placed on the rolling carts and taken to another room for viewing. The boxes also allow some offsite programming
to occur.
The boxes fit in a well-organized storage system. The storage system can also be used to set up chronological displays of items such as arrowheads and beads. Doing this allows MOCI to tell a more detailed story of their history not only to visitors but to their own people.
"Our archivist Robin Swayney is fond of saying that if people cannot see our collections, they are just stuff on a shelf. Every day we hope we are bringing our mission to life, which is to preserve and perpetuate the history, culture, and stories of the Cherokee people. The funding from the Foundation makes this possible," said Dawn.