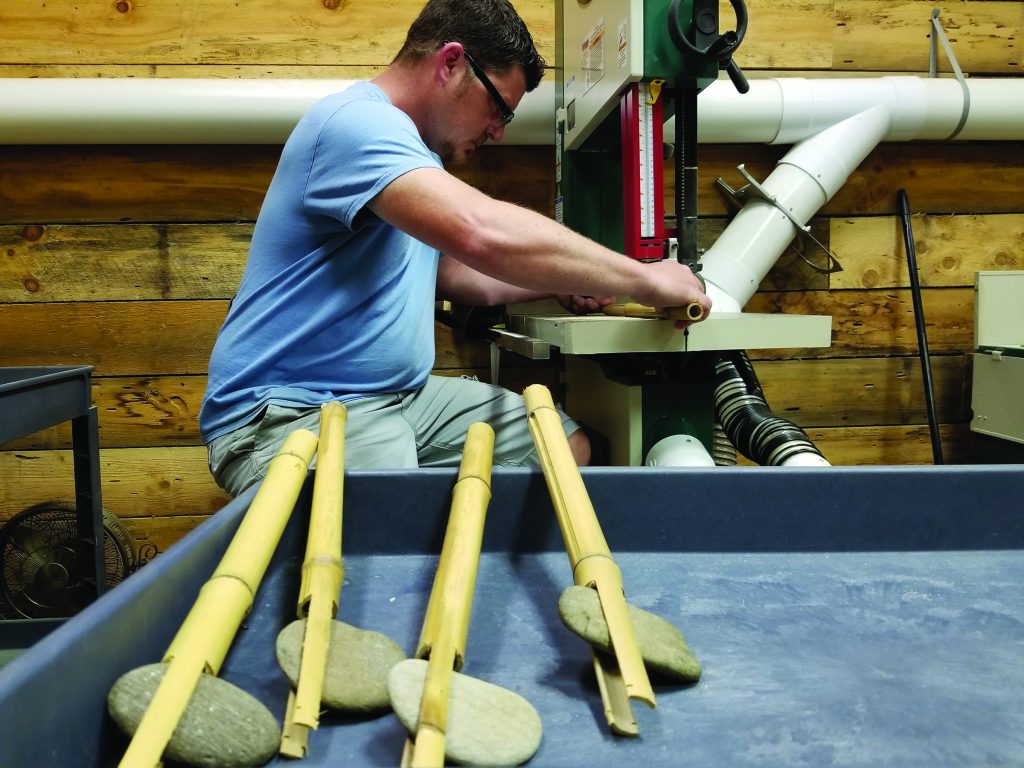 The idea of building items such as pea shooters, tomahawks, slingshots and bow and arrows is nothing new to the Cherokee people—they've been building these real tools for centuries. But as demand for these toy products loved by children increased, Cherokee gift shops were ordering from suppliers outside Qualla Boundary.
The Cherokee Historical Society (CHA) began thinking how they could bring production back home. The idea was first noted in the latest CHA strategic plan, and production is now happening in Cherokee.
"The idea of manufacturing these products here originated because we wanted to keep more employees working year round," said John Tissue, Executive Director, CHA. "We have a lot of great employees who only work six months a year during tourist season, so if we could come up with a way to help them earn off-season revenues, we wanted to do that."
A manufacturing facility in an old storefront is now producing products using natural materials available on the boundary. River cane, peas, and mountain laurel wood are turning into pea shooters, slingshots, and bows and arrows perfect for children's play toys. Two fulltime employees make these products with the help of several part-timers.
Each product is branded with information matching the Tribe's branding and includes a message about how the product was made and how it was once used. Local Cherokee gift shops are selling these items, and a couple of gift shops who focus on traditional Cherokee crafts outside the boundary also carry them.
It's nice to know that these toys are being made by local Cherokee employees to be both authentic and affordable.