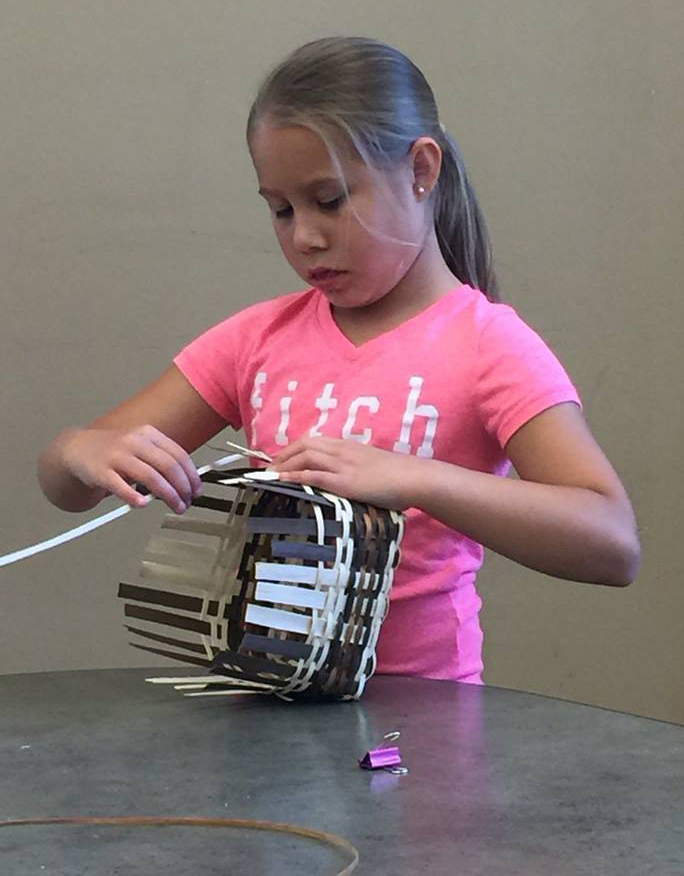 Attending summer school is not usually something kids look forward to doing, but the Cherokee Cultural Summer School held last June was an exception. Some 150 children that attend Cherokee Central Schools learned about and practiced hands-on traditional Cherokee crafts and activities from making baskets to cooking traditional foods to playing musical instruments.
Teachers for the two-week school for first-fifth graders include local artists, teachers, and community elders. Many of the elders are grandparents of children attending the school. The mix of teachers provides a unique and culturally rich experience for each student.
Sasha Watty's  8-year old daughter Suri has attended the school for two years now.
"This year Suri made her own white oak basket, continuing a long tradition in our family. I was very proud of her; it was beautiful. She decided to give it to her grandfather, who was absolutely thrilled," said Sasha.
Suri also created an intricate corn husk doll—it was the first time the school offered this craft. The students used scraps from white oak baskets to make bows and arrows for the dolls, and white oak splints were used to create paddles. The corn husks were painted, and horse manes became doll hair.
Many students also learned to prepare traditional foods, starting at the farm level by picking berries and tomatoes. They learned about the canning process, putting up tomato sauce and strawberry jam. They also learned about leather britches, a longtime tradition in the mountains. The children picked the beans and strung them up, where they will dry for months before cooking.
During the two-week school, classes included making gourds, pottery, practicing beadwork, attending acting classes, and learning to play the Native American flute. Other classes focused on Cherokee singing, traditional dance and games. The Cherokee language is part of every class.
Cultural Summer School began in 1991 with the intention of teaching students to preserve the Cherokee culture through Cherokee arts and crafts. Any student in the Cherokee school system can attend at no cost.
"It's a time when kids really look forward to school," explained Madison Hye Long, who attended the school several years ago. "Different classes had different activities. We dug our own blood root and made the dye, made pottery and white oak baskets and learned other traditional crafts. To me, it's all about preserving our culture, and I'm a big believer in tradition, it's important."
The Cherokee Preservation Foundation, Harrah's Tribal Scholarship Committee and the Cherokee Boys Club provide support for the Cultural Summer School Program. For more information, contact the Cultural Department at 828-554-5004.
Suri quote (she's in newsletter photo): "I enjoy making baskets because my grandma Elise made them and she was FAMOUS. I'm proud that I can now carry this family tradition on for future generations. Thanks Mrs. Goings for being such a great teacher."