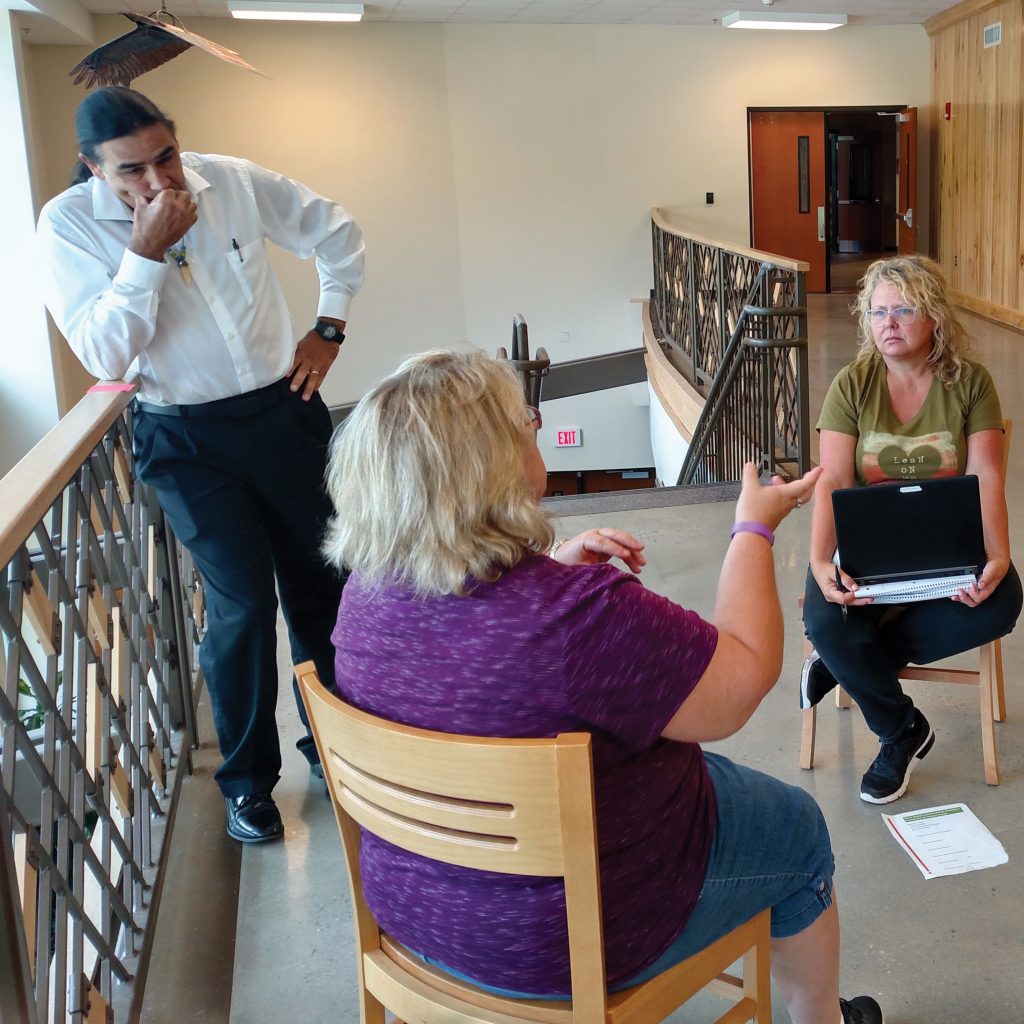 Nearly a decade ago the CPF worked with a diverse group of partners both in Cherokee and the western North Carolina region to develop a broadband internet network. CPF intended to provide the necessary tools to prepare the Cherokee workforce for modern 21st century jobs. However, most of the teachers struggled with fully utilizing broadband and accompanying technology in their lesson plans.
Consequently, CPF funds were approved to adequately train the teachers with a focus on Cherokee Central Schools (CCS).  Through the years, CPF has partnered with WRESA (Western Regional Education Service Alliance) to continue helping teachers stay abreast of technology and focus on STEM (Science, Technology, Engineering, and Math) programs to help Cherokee youth be better prepared for college and their entry into the workforce. A recent grant from the Foundation to WRESA bolstered the STEM/CTE (Career Technical Education) program in Cherokee Central Schools by funding a coordinator position to help focus and provide alignment and continuity in the schools.
"We just needed a person to focus on and manage the big picture for CTE and STEM, to work on professional development and follow through," said Dr. Beverly Payne, Assistant Superintendent at CCS. "Cance Carnes, former middle school principal, took on this critical position last year." "Cance worked with teachers to find out what they needed to roll out STEM, conducting needs assessments, and looking at data to determine students' needs, especially at the elementary level," she explained. "He really helped us promote more authentic project-based learning."
Funding the coordinator position is leading to CCS and community collaboration for the first time in many years. This partnership helped to form the Qualla Education Collaborative (QEC), which includes a diverse group of key stakeholders working together to implement Personalized Education through blended learning and STEM-E (Entrepreneurial based STEM) to further develop a strategic plan.
"Our goal with all the STEM and similar programs is to prepare our CCS graduates for what's next, whether that's college, the military, joining the workforce as an employee or becoming an entrepreneur. We want to support and promote the varied kinds of workforce our communities need," said Emily Darling, WRESA grant coordinator.
CPF funding continues to provide professional development opportunities for teachers, and the science based training is generating excitement and program momentum. Furthermore, CCS students are excited to participate in programs like the Science Olympiad competition. They also partook in a Robotics competition last year, and hosted STEM-E club student conferences in 2017. CPF will continue to work with various partners to stay abreast of innovative technological improvements and support teachers in their endeavors to develop modern technology based curriculum for CSS students. Preparing CCS students for the modern 21st century workforce is vital for the future economic prosperity of Cherokee and the region.