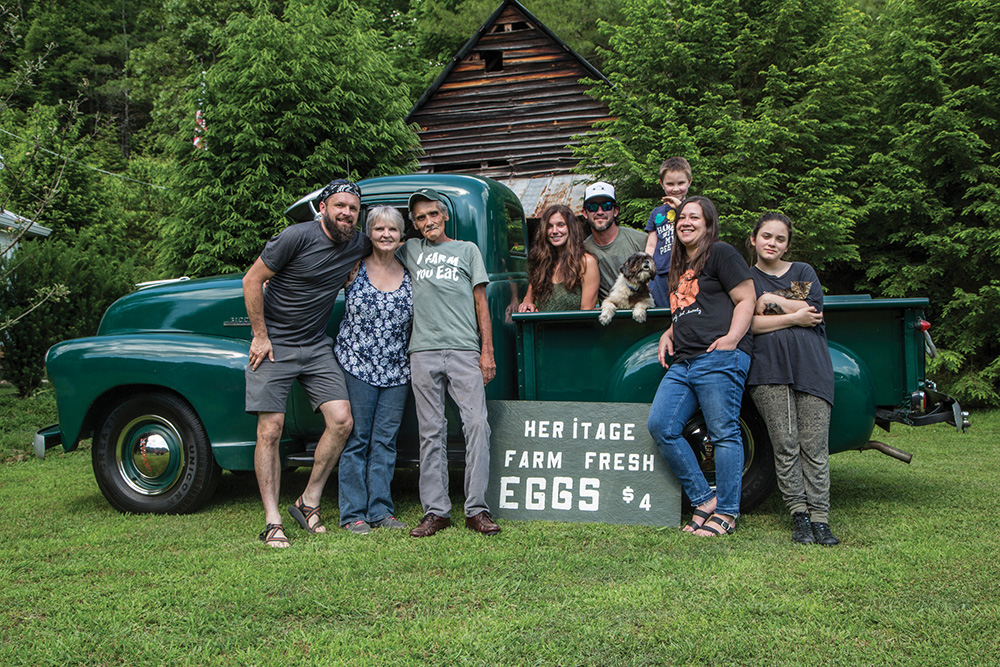 Cherokee society historically revolved around farming and community gatherings. The spiritual context of those activities cannot be overstated with every community member participating on some level. Socializing and ceremonial gatherings always revolved around food grown by community members, creating a spiritual bond between tribal members as they celebrated, grieved or socialized together. This Cherokee belief continues today as many community members engrain farming into their lives, which allows them to stay connected to their ancestors.
Lifetime farmer Harold Long is a member of EBCI; he learned his craft from his parents and grandparents on the Qualla Boundary. Harold and his wife Nancy searched for many years for a farm that was isolated enough to provide heirloom and heritage seed saving without cross pollination.
In 2015 they purchased a 32-acre farm bordered on two sides by Cherokee land. The farm includes good, flat land and prime soil, an important component for heritage farming. The Longs are growing organic heirloom vegetables and breeding heritage poultry and swine.
The Longs are passionate about increasing access to heritage crop varieties and educating the community about the importance of local food production. For the past decade they have grown and saved seeds for the Cherokee Tribal Seed Bank. The Bank offers an annual seed give-away, providing some 800 Cherokee families with seeds for home gardens.
Mainspring Conservation Trust is helping the Long family receive a conservation easement via a grant from the Foundation. The easement will help them increase their capacity for seed saving that benefits the EBCI community and offers a model for Cherokee farmers.
"The Longs have an inspiring mountain farm operation that values organic production and heritage preservation," said Sara Posey, Hiwassee Programs Manager, Mainspring Conservation Trust. "We're pleased to help them conserve it, and grateful to the Foundation for helping us with those costs."
The Foundation grant covers some of Sarah's time to complete the conservation easement, including managing federal and state grants and moving the project to closing. Many other funders are involved in this project; Sara notes it takes many funding sources to put this type of project together.
Mainspring will apply for the easement purchase price from the Regional Conservation Partnership Program (the new federal farm bill) and also request funds from North Carolina.
"We really want to save this prime soil and are working on getting an easement in perpetuity so the land will never be developed," said Nancy Long. "We hope to pass it along to our son and grandchildren who will continue growing heirloom varieties of corn, tomatoes and other vegetables, along with heritage chickens and a rare pig called a mulefoot pig."
Harold and Nancy grow several rare heirloom vegetables; Cherokee tan pumpkins, Candyroaster squash, Cherokee Trail of Tears beans and others. They use organic practices and save heirloom seeds.
"We all have to eat and we might as well eat healthy and in a manner that keeps our environment healthy. When Harold was growing up they grew their own food, foraged, and hunted—his parents raised 10 children and they all came up that way," said Nancy. "He's carrying on the Long family tradition of growing our own food and sharing it."

"The Long farm is a great example of what mountain farming can be, organic farming, and a heritage variety of chickens and swine that could go extinct. We need local food sources," said Sarah. "The whole point is to help farmers who are trying so hard to keep this tradition alive. I want farmers like these to be around for the long haul."