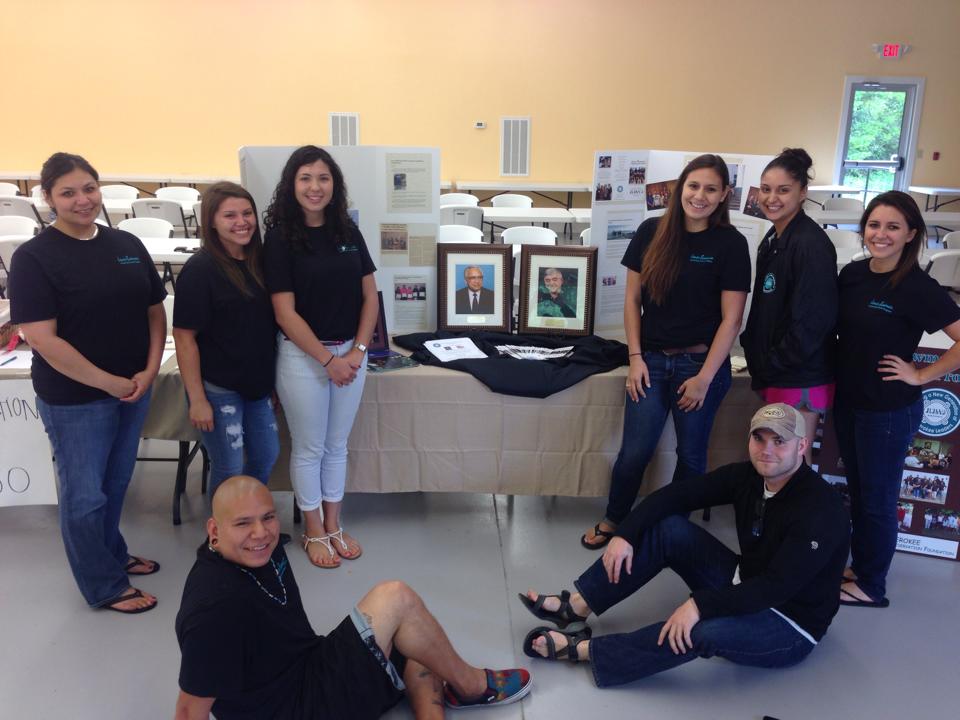 Giving back to the community is one of the most important things a person can do, according to Alicia Jacobs, Director of the Jones-Bowman Leadership Award Program on the Qualla Boundary in Cherokee, NC. She understands being successful in today's world comes with a great responsibility to provide for others.
The Jones-Bowman Leadership Award was established in 2007 to honor the memories and leadership of Principal Chief Leon Jones and Mr. James Bowman, founding members of the Board of Directors of the Cherokee Preservation Foundation. The Jones-Bowman Fellowships are awarded to undergraduate college and university students who are enrolled members of the Eastern Band of Cherokee Indians (EBCI).
Participation in the Jones-Bowman Leadership Award Program requires a commitment to community service and a time commitment to be of service in the summer months and on school breaks. Most recently, the Jones Bowman Fellows hosted a stickball game, corn hole tournament, held a 50/50 raffle, a silent auction, and a food booth to raise funds for active youth groups in the community.
The Fellows raised $1,000 and will contribute $250 each to Big Cove, Big Y, Tow String and Snowbird communities. They will attend the monthly community club meetings to share information about the program and present them with their donation.
The $300 first place corn hole tournament winners are Randy Lowe and Ivan Fumes of Team Blue Ridge. Second place winners, ($200), are Jonah Bird and Justin French of Team Double J. Third place winners ($100), are Jason Owle and Stan Ledford of Team Cornholio.
"I can't thank the community enough for coming out to support the Fellows group project. They are continually striving to serve and give back to their community. By choosing to donate to the community club youth groups, they show their commitment to making an impact in the lives of the younger generations and encourage them to step up and continue to serve their communities," said Jacobs.
For more information about the Jones-Bowman program, including how to apply, visit Our Jones Bowman page or call Alicia Jacobs at 828/497-5550.
Group photo left to right
Front row: (on the floor) Tim Calhoun, Joshua Gossett
Back row: Tishina Carroll, Alexa Armachain, Carmen Johnson, Kayla Smith, Dakota Brown, Savannah Hicks
1st Place is Team Blue Ridge Randy Lowe and Ivan Fumes
2nd Place is Team Double J Jonah Bird and Justin French
3rd Place is Team Cornholio Jason Owle and Stan Ledford