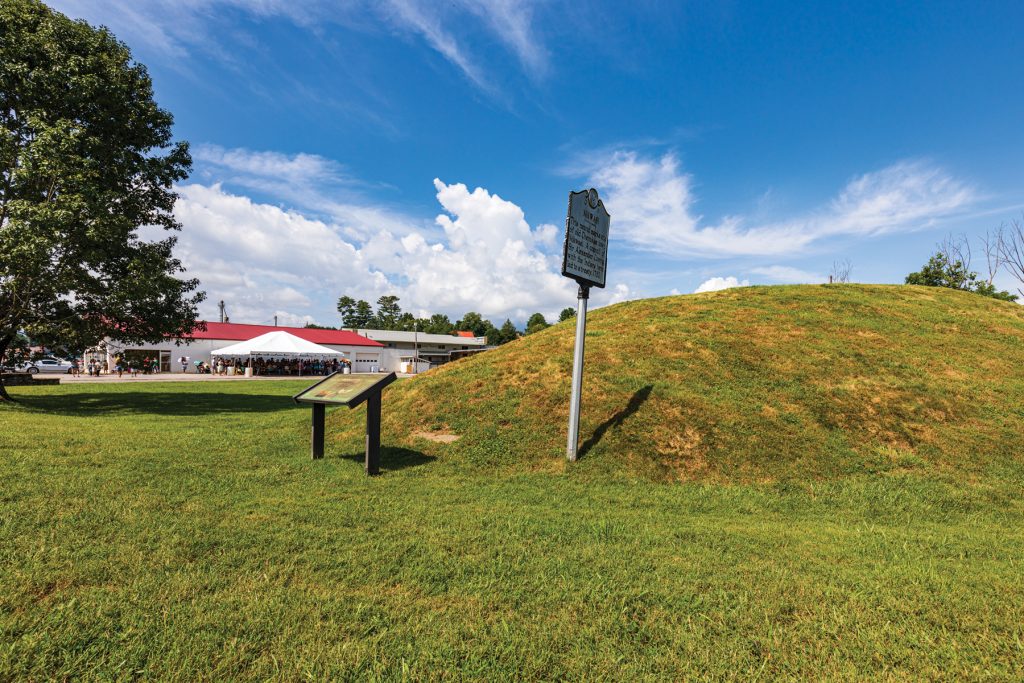 For more than a decade, Mainspring Conservation Trust has collaborated with EBCI tribal departments, Macon County, and local residents with the support of several Foundation grants. One result included preserving the Cowee Mound and Town Site—an important diplomatic and commercial Cherokee center of the 1700s. A kiosk near the mound explains the history as told by the Cherokee people.
A more recent grant to Mainspring supported planning around the Nikwasi to Cherokee Cultural Corridor intended to help Mainspring support citizens in Cherokee, Macon County, and Franklin to preserve more Cherokee historic settlements.
"After many meetings with diverse stakeholders, all of us realized the project was much larger; it became a 60-mile heritage corridor," explained Ben Laseter, Deputy Director, Mainspring. "The groups involved formed their own nonprofit, the Nikwasi Initiative. The EBCI, Town of Franklin, Macon County, and Mainspring continue to support the initiative, a wonderful example of collaboration."
The area around the Nikwasi Mound in Franklin is transitioning now with plans for site improvements and an interpretive kiosk similar to the one near Cowee Mound. EBCI recently purchased Dan's Auto building to the west of the mound, and Mainspring and other stakeholders own parcels and buildings close to the property. The vision is to create a public space that honors the ancient Cherokee heritage dating back 10,000 years.

Grant funds also allowed the organization to conduct studies on brownfield parcels—these are areas that are contaminated due to previous uses. Additional funds covered in this recent grant were used to commission a study to inventory and assess other potential sites along the Cultural Corridor. That study identified about a dozen more sites, and helped Mainspring leverage state, federal, and private funds to acquire and begin reclaiming two contaminated parcels near Nikwasi Mound.
"Mainspring's mission is to conserve the waters, forests, farms and heritage in our service area, which includes the six NC counties west of the Balsams," said Ben. "The heritage piece grows each year; our partnerships and ties grow. We have the opportunity to help recover this area in Franklin that surrounds an ancient
Cherokee townsite. And we can build more partnerships and collaboration, thanks to the support of the Foundation."