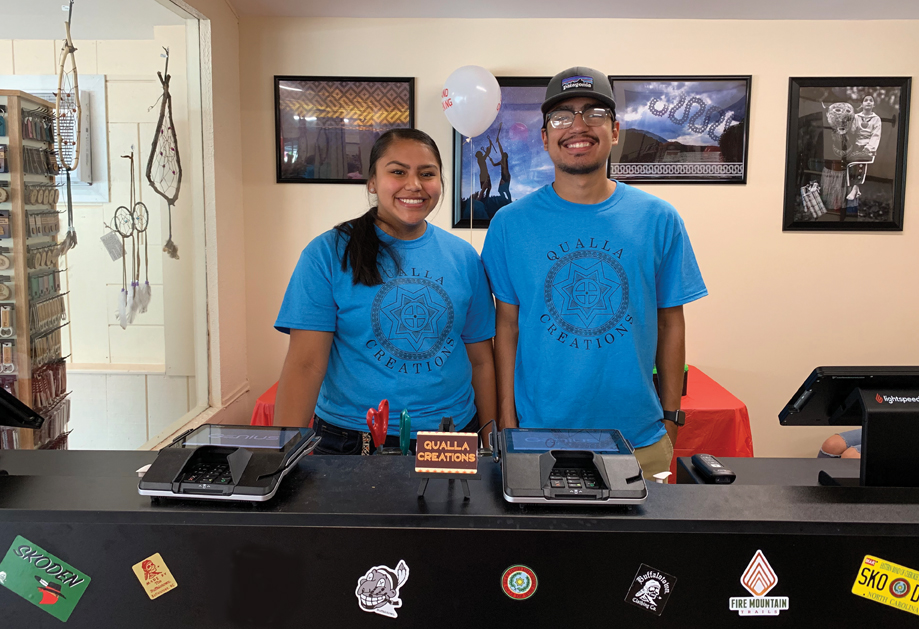 A great idea that the Cherokee Historical Association (CHA) considered for several years is now a wonderful reality. CHA recently opened Qualla Creations in downtown Cherokee.
"We have wanted a presence in downtown Cherokee for several years," said Laura Blythe, Qualla Creations Manager. "Our new location has a lot of foot traffic and we're glad to bring more authenticity to the downtown area withCherokee-infused products."
The shop carries a variety of products. While not everything is handmade, all products do include some element of Cherokee culture. For example, metal tumblers for cold or hot drinks include a sun basket design on the outside. Many items are handmade by enrolled and non-enrolled Cherokee citizens, such as jewelry and paintings. The goal is for the shop to be open to artists from the community in general.
"We welcome artists from our community, people who really focus on making art deserve a place to be showcased, and that's what we're doing," said Laura.
Oconaluftee Crafts, a small manufacturing operation funded by CPF and owned by CHA, also relocated to the building containing the retail shop. Their employees make six different items geared for children. They include bows and arrows, tomahawks, sling shots, and arrowhead necklaces.
"These are quick grab items that children love. And we make them as authentically as possible, using stronger materials than the ancient items that were created, but sanding and wood staining them to look natural. We attach turkey feathers to the bows and use traditional color beads on many items—colors that were common before contact with the outside world," said Laura.
The shop employs a great team that includes some young people who attended a mentoring program sponsored by CHA. A few young people worked at the shop through last summer, learning the ins and outs of opening a retail store.
CHA provided funding for renovations to the retail space, and the Foundation provided funding for operational support, including sales associates, inventory, and fixtures.