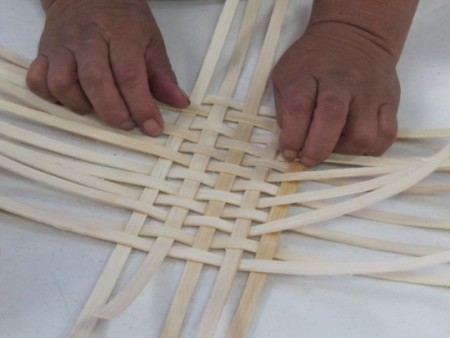 Many cultures celebrate the aging process and honor their elders, and this is especially true in tribal communities where elders are respected for their wisdom and life experiences. Within Cherokee families, it is common for the elders to pass down their learnings to younger members of the family.
Elders can pass on important information about tribal history, tribal traditions, family history, language, songs and stories. Spending time with elders to listen and learn helps preserve information for the benefit of future generations.
In Cherokee, the spirit of "ga du gi" is about fellowship and cooperation and is the way of life in the Big Cove community on the Qualla Boundary.  However, over the years, some community elders recognized a growing disconnect between the generations and the urgency to insure Cherokee cultural practices and traditions are preserved.
"There is a need for inter-generational understanding and the need to help young women learn traditional skills to be more self-sufficient," said Yvonne Bushyhead, an elder from the Big Cove community who helped develop a grant proposal for the Cherokee Preservation Foundation. The funded grant now supports education classes at the Big Cove Community Center for young women to learn Cherokee cultural practices and traditions.
The funds are used to purchase cooking utensils, sewing tools and materials for craft classes. Community elders donate their time and talents and are teaching young women in the community how to gather and prepare seasonal foods, make traditional crafts and sew.
The program caught the attention of organizers of the 43rd Annual Symposium on the American Indian, held on the campus of Northeastern State University in Tahlequah, OK in April, 2015.
"It is such an honor to be invited to speak about the Big Cove Revitalization Project at the symposium," said Bushyhead. "Our program is so inspiring and will be uplifting to those in attendance."
The ways of the past are still of vital importance to the lifestyles of the present. In Big Cove, this opportunity to bring about fellowship and camaraderie between their young women and their elders is helping bridge the generational gap and provide ways for cultural traditions to be preserved.
"This is our community and we owe our young women the chance to gain the wisdom and knowledge of their elders," said Bushyhead. "Each month when we gather, we are able to give back to our people. There is a strength in numbers and where one person may feel helpless, when we are together there is strength to all."