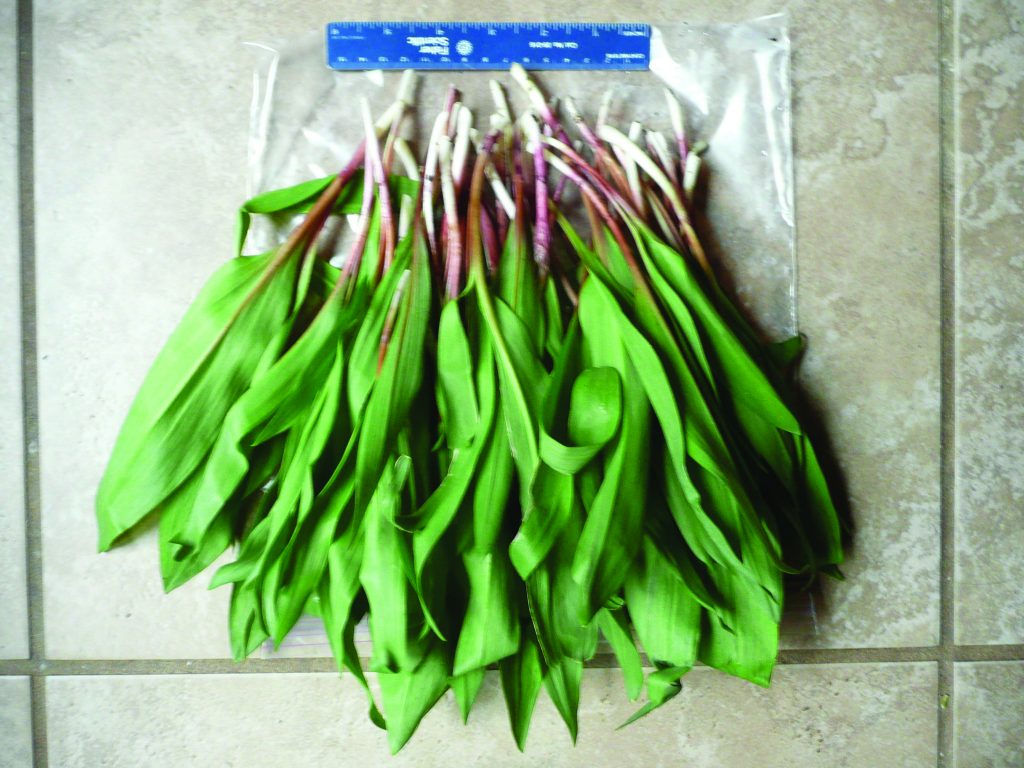 For generations the Cherokee people gathered ramps—a native plant similar to an onion—from traditional family plots until many of those plots became part of the Great Smoky Mountains National Park (GSMNP). The ban on ramp harvesting meant that many Cherokee family plots were no longer available.
For more than a decade, the Foundation has worked to establish a healthy ramp restoration population on Tribal grounds. Several grants were awarded to continue the studies. Some studies included gathering seeds from local populations in traditional Cherokee gatherings places such as the Park and Nantahala National Forest and saving them to propagate plants for an intensive repopulation program using those local seeds.
A recently completed grant from the Foundation to Bent Creek Institute, a facility housed at the NC Arboretum, is yielding excellent results. Taking seeds from traditional Cherokee ramp collection sites, the seeds were planted in special pollination cages at Cherokee Central School. The emerging plants were pollinated by blue bottle flies, which proved to be just as effective as using bees.
To keep the plantings pure, controlled pollination regeneration cages were used. These are screened cages over a metal frame. Each cage was planted with a separate population of ramps seeds. When the plants matured they produced seeds that were stored at a Cherokee seed bank located at the NC Arboretum Germplasm Repository, and the seeds were replanted over five years.
"We were so pleased with this project; survival rates were above 95% for all five capes for five years," explained Joe-Ann McCoy, director of the Germplasm Repository at Bent Creek Institute. "And growing the ramps at the school gave teachers the opportunity to educate students about ramps, what they are and their importance to the Cherokee people."
Recent nutrient panels conducted on ramps show they are incredibly nutritious; so much so that they may be added to the Cherokee Central School's lunch program. They are excellent to use to fight off flu and viruses.
The plants harvested this past year were harvested sustainably using traditional Cherokee harvesting methods (taking only the white tips of the plant and leaving the base and roots).
"We've been meeting with the Great Smoky Mountains National Park (GSMNP) staff for awhile now, and by showing them that our harvesting methods are sustainable, we hope they will allow native people to harvest once more on national forest land," said Joe-Ann.
Joe-Ann McCoy certainly has the credentials to help reopen the GSMNP to ramp harvesting by the Cherokee people. With a degree from UNC Asheville in conservation, a masters from Clemson University in plant pathology and plant chemistry, she also has a Ph.D. in that area. She was formerly with USDA as a national medicinal plant recruiter and worked with many native tribes.
Working closely with the Cherokee, she started the Cherokee seed bank at the Arboretum. She's now been working with the Cherokee for more than a decade doing research studies on sochan and ramps.
"To prove that the Cherokee harvesting methods are sustainable takes a lot of work and time," she said. "We've worked for three years doing a scientific study with a control group, and this year we will have the data we need to publish. We are looking at a few peer-reviewed journals that may publish this."
Joe-Ann is working with a statistician at Clemson University, and they will publish the article together. Once the article is published, Joe-Ann says it can be used by other native tribes who use these plants to allow them to harvest on national forest land.